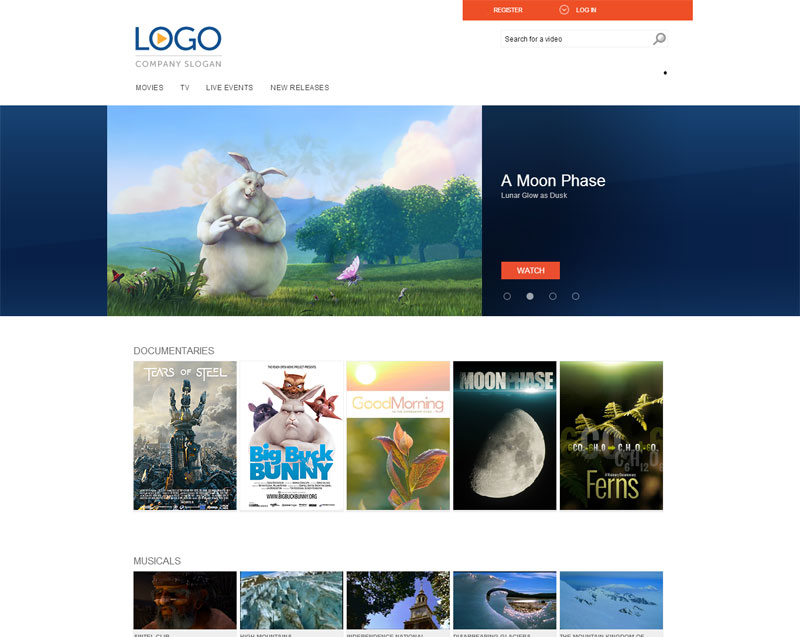 Read Time: 3:00 minutes
If building a Netflix-like online video subscription website intrigues you, then you're probably aware of the 'gold rush' potential of online video.  But here are a few gratuitous facts to drive the point home:
Overall, 90% of consumers globally now watch video content over the Internet, including movies, TV programs, videos on demand, and more on a variety of devices. (1)
The majority of consumers are willing to pay for a monthly subscription to access on-demand content on a PC, TV or tablet. (1)
Video-on-demand will nearly triple by 2017, to the equivalent of 6 billion DVDs per month. (2)
Significant potential exists for successful online video ventures in emerging and developing markets like Brazil (3), the Middle East and North Africa (MENA) region (4), and others.
So what are the options to get in the online video business with a subscription / pay-per-view, or ad supported, online video website?
Here are a few tips and details from the VOPED team to help businesses integrate video into established plans, and to help video startup companies around the globe get up and running with a Netflix-like online video website.
Type of Video Content
Determining the type of content that you plan to offer is a critical first step which will then help you answer several other questions about the sophistication and scalability of your online video technology needs.
For example, if you plan to use video as a simple low- to medium-volume content marketing tool, then it may be best for you to use YouTube, Vimeo, or other free / freemium systems that will allow you to get your free video content on your website and showing up in search results.
On the other end of the spectrum, if you plan to offer and monetize Hollywood movies and live streaming events across multiple devices (laptop, tablet, smartphone), then you'll need a much more sophisticated system that includes Digital Rights Management (DRM) to protect the copyrighted video content, as well as geofencing, adaptive bit-rate streaming, and many other features.
Once you've decided on your content approach, then the content management, monetization and delivery is the next step – and a very, very important one!
Buy or Build?
Many if not most established online publishers and brands, as well as video entrepreneurs and startups, struggle with the deployment of a user-friendly and easy to manage website for delivering video content.
The answer to the buy or build question will once again depend on the type of content offered, as well as your growth plans for the online video venture.
Build
There are out-of-the-box website products today that may smoothly integrate with free/freemium online video systems.  Content management systems like WordPress, Drupal, and many others allow users to quickly purchase and deploy attractive website templates to profile video content.
However, the combination of a CMS with a YouTube-style service will not provide the backend ability to monetize video content with subscriptions or pay-per-view, and probably won't provide much in the way of content analytics and SEO.
Additionally, according to YouTube's TOS, uploading content gives YouTube a license to use your video content. For the everyday user, this isn't a big concern.
But it's certainly not ideal for business, enterprise or rapid growth online video ventures, and simply won't work for those offering premium video content.
For those that decide to build, just note that you'll need to acquire all of the various pieces (probably from different vendors) as you scale or find that your customers need different services.
These include hosting, a content delivery network, and potentially payment gateway integration, branded mobile apps, and Digital Rights Management, to name a few.
Depending on your growth plans this approach can require a developer, or even a team of programmers both to set up a well designed user experience, and to keep up as technology advances and as users expect more.
Buy
We're VOPED, and we offer what we believe to be hands down the most robust and feature-rich online video technology in the business.
So we'll come right out and say that we recommend the buy option for all online video ventures that have needs beyond the freemium model, and can benefit from a turnkey approach that can quickly deliver scalability, global reach, multiple platform functionality and more advanced technologies like DRM and apps.
That being said, there are many options out there, and you can learn more about the various products at VidCompare.  But fair warning: all online video providers are not the same.
Many make their money by up-selling their customers service-by-service. You want to live stream? Neat! That will be an additional $1,500 per event. You want an iPhone app? Swell, but we don't do that.
Bring the app along once you've built it and we'll plug in for a just a small setup fee of $5,000. (These are hypothetical numbers, but you get the idea).
One thing is certain – every online video venture is different, and the customer's ability to find, pay for and watch your video content will make or break the plan.
With that in mind, finding a company with the ability to work with you as your needs change, including the potential to develop and change the software to adapt to your needs, is absolutely critical.
PLUG: For those seeking a flexible, all-in-one solution, we encourage you to look into VidFront hosted video websites, fully customizable websites backed by VOPED's online video technology, so you can quickly get up and running and a Netflix-like user experience for free or paid content – soon to be available as a mobile site too.
We hope that this post has been helpful, and we welcome your comments and questions!
The VOPED Team
Sources
1)      Video-Over-Internet Consumer Survey, Accenture, April 5, 2013
2)      Visual Networking Index, Cisco, May 29, 2013
3)      Brazil showing serious online video growth, even as penetration sinks, Memeburn, July 24, 2013
4)      IPTV To Overtake Cable in MENA by 2016, IP&TV News, March 6, 2013