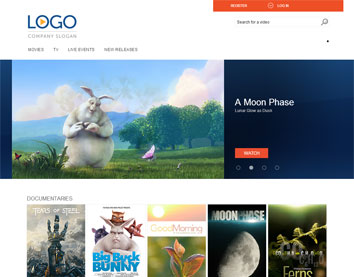 The VOPED team is pleased to announce the launch of VidFront, a hosted video website solution for online video publishers.
VidFront allows content publishers, companies and organizations to rapidly launch a new or redesigned video website under their own brand, using either a standard template or a completely customized site. With 90 percent of consumers globally now watching video content over the web, including movies, TV programs, and video on-demand across multiple devices, there is great opportunity for new online video ventures.
"Many online publishers and brands struggle with the rapid deployment of a well–designed, easy-to-manage website for delivering and monetizing video content, and consumer expectations are only going to increase as more video content becomes available. Our new solution, VidFront, provides video on-demand, Pay Per View, live streaming, social integration and more in a turnkey package, and allows publishers to focus on content instead of the supporting technology," said Mark Serrano, President and Founder of VOPED. "VidFront is a powerful tool that creates great opportunity for the online video business."
VidFront is offered in a brandable template or a fully customized site, and includes all of the features and power of VOPED's online video platform. VidFront can be bundled with Digital Rights Management (DRM), allowing for the rapid delivery of premium video content online with content protection. Other benefits of VidFront include dramatically cutting launch times and website development costs, and improved user experience and search engine optimization (SEO). VidFront for mobile will be released soon.
Contact Matt Bennett for more information: matt@voped[dot]com, 831-238-0950